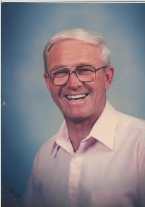 Share Your Memory of
John
Obituary of John F. Wilkens
John Frederick Wilkens was born on June 08, 1932 in Brooklyn New York. He was the first-born son of William Wilkens and Mary (Molly) Sheriffs. William Wilkens immigrated from Germany and Molly Sheriffs immigrated from Scotland. They had met in New York City and married. William and Molly moved to Red Falls, New York with their 3 sons John, Ronny and Bobby. William started a Pluming business and John was learning his father's trade.
John was drafted into the United States Army in October, 1952. He was Honorably discharged August 1954. He was a Medic and promoted to Sargent during his tour of duty in Korea. John was part of Mobile Army Surgical Hospital (MASH), and accordingly loved the TV series MASH. After he was discharged, he met Margaret (Peggy) Helen Becker, fell in love and they married September 25th, 1955. John and Peggy brought three daughters in to this world: Peggy Ann, Johanna Lynne, and Karen Marie.
John made many accomplishments during his lifetime. John dropped out of school in the Eighth Grade to help his family financially, but gained his GED in 1954. He was inducted into the Masons the same year John and Peggy were an integral and influential part of forming the Prattsville Rescue Squad. John earned his Emergency Medical Technician (EMT) certification, and provided medical aid to the town and surrounding area. He attended a Law Certification class in Albany Law School, served as a Town Justice of the Peace. John and his brother Ronny, formed a Construction business. They and built many houses in and around Prattsville that are still standing today. John was in the Army National Guard.
John and Peggy moved to Ocala, Florida, built their house in 1997, and lived there together until April, 2022. John is survived by his three daughters. His beloved wife Peggy passed away in June of 2022.
A graveside service will be held on Tuesday, April 25, 2023 at 2PM at Fairlawn Cemetery, Prattsville, NY.
The Decker Funeral Home in Windham, NY serves the mountain top area with Care, Concern and Respect.

The funeral home is not only a business; it's a family, the Gulino family.