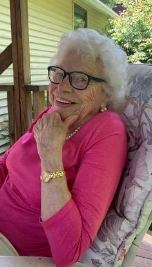 Share Your Memory of
Louise
Obituary of Louise B. McRoberts
Louise B. McRoberts, 98, of East Windham, NY. died Friday, February 17, 2023 after a brief stay at St.Peter's Hospital in Albany NY. Born on October 14, 1924 in Hollis, Queens, New York, she was the daughter of the late Helmuth and Erna Koster Kading. She married Charles (Mac) McRobert's on May 11, 1947 and was married for 55 years. Mr. & Mrs. McRoberts moved from Hollis, NY to East Windham in 1963. She is survived by daughter Cheryl and her husband Bob Cupo of Berea, Ohio, her son Chuck McRoberts and his wife, Lorraine Rabl McRoberts of Windham, NY. Her grandchildren, Bob Cupo and Dylan McRoberts, her surrogate grandchildren Taylor and Kathleen Brandt, and nephew, William Kading.
Mrs. McRoberts is predeceased by her brother, Hank Kading and her niece, Kathleen Kading.
She served in the Women's Army Corps in 1944 and was dispatched to a medical unit to help care for wounded soldiers returning to the US.during the Battle of the Bulge. She was deployed to Germany and assigned as air-raid warden and also dispensed weekend furloughs to the soldiers. She was an active member of the mountaintop community. She was a cook (and "mom") at Camp Oh-Neh-Tah, a member of the St. James F. Carty, D.S.C. VFW Post 1545 in Windham as Quarter Master, a member of the Red Cross and Meals on Wheels. Louise was a den mother and vice-president of WAJ PTA , also a chaperone for student dances. A member of the Matron Order of the Eastern Star, vice-president of the Batavia Fish and Game Club. She was president of the Windham Hensonville Women's Group and a member of the Windham Senior Center. A short term Trustee of the Windham Library and Trustee of the Windham Hensonville United Methodist Church and member of the choir. A member of The Red Hats and supreme baker and distributor of blueberry muffins.
She worked varying positions at Point Lookout, Windham Ski Slope, Hunter Mountain German Alpine Store as well as The Windham Journal with Sedonia.
She received the Veteran of the year Award in 2014, and received the New York State "Liberty Award" presented by State Senator Cecilia Tkaczyk. She was able to participate in 2 Freedom Flights to Washington D.C. and also was able to take part of the Dream Flight in her 90's.
Louise left her mountaintop home with many a broken heart from across the country in hopes that fond memories will bring smiles and laughter in time.
A Memorial Service will be held at the Windham-Hensonville Church in Windham, New York on May 13, 2023 at 1:00 p.m.
Donations to the Windham-Hensonville United Methodist Church, 5296 SR 23, Windham, NY 12496, the Windham VFW, Post 1545, 5565 Rte 23, Windham, N.Y. 12496 or charity of choice in lieu of flowers
Funeral Service
1:00 pm
Saturday, May 13, 2023
Windham-Hensonville United Methodist Church
5296 State Route 23
Windham, New York, United States
The Decker Funeral Home in Windham, NY serves the mountain top area with Care, Concern and Respect.

The funeral home is not only a business; it's a family, the Gulino family.