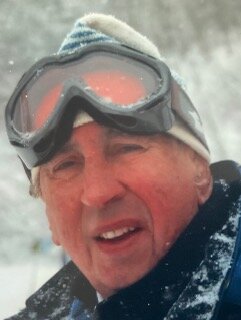 Share Your Memory of
Calvin
Obituary of Calvin Purdy
Calvin W Purdy, 93, of Windham, New York passed away January 19, 2023, at Robinson Terrace, Stamford, New York.
Calvin was born in New Jersey, Calvin worked as an engineer for ITT for many years. He was also an avid outdoorsman. He owned a ski shop in the Wayne, NJ area for many years. He was a Professional Certified Ski Instructor, Level 3. Ski School Director at Campgaw Mountain, Mahwah, NJ. Ski instructor at Killington Mountain and Windham Mountain for many years. Cal also spent a lot of time sailing while living in New Jersey.
Cal and Eileen loved their poodles. Mo was a special one keeping Cal company after Eileen passed away. They enjoyed gardening, keeping their home's landscaping and yard beautiful.
Cal and his late wife, Eileen, moved to Windham full time in 1996. Cal was a quiet man but would come out with some great one liners just at the right time! He enjoyed the mountaintop!
Thank you Decker Funeral Home for your service.
The Decker Funeral Home in Windham, NY serves the mountain top area with Care, Concern and Respect.

The funeral home is not only a business; it's a family, the Gulino family.