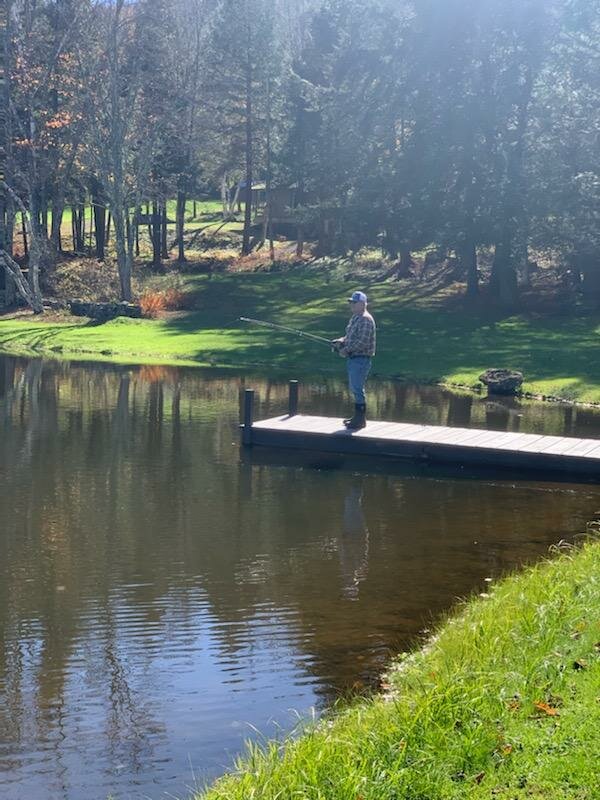 Share Your Memory of
Clifford
Obituary of Clifford Douglas Lawrence, Jr.
CLIFFORD DOUGLAS LAWRENCE JR. or "LARRY" as he was known best, of Ashland, NY passed away April 23, 2022 at age 77. Our beloved Husband, Dad and Pop took his final breaths at home on a sunny, tranquil Saturday afternoon surrounded by the new spring woods he loved best and with his family close by. The earth cried with our family, as it rained cool drops while we said our goodbyes, whether holding his hand or from far away. This brings us all comfort in our loss of this great man.
Larry was born on June 3, 1944 to the late Clifford D. Lawrence Sr. "Cliff" and Pauline A. (Munger) Lawrence, and was a brother to recently deceased Linda L. Araneta. Larry is survived by his loving and devoted wife Nancy Jane (Averill) Lawrence of 60 years and his beloved children Bonnie Lynn (John Jr.) Poehmel, Clifford D. "Doug" (Diana) Lawrence III and Danielle Lynn (Robert) Emerton. He is treasured by his grandchildren Laura Ann (James) Bouton, Baily Allan (Calista) Emerton and Brent Averill Emerton, and his two greatest treasures, his great-grandbabies Grace Ann and Jamie Mae Bouton. Larry is also survived by many adoring family members, including many cousins, nieces and nephews.
Larry was very well known amongst the mountaintop and beyond for his flawless excavating work as a business owner of "C. Lawrence & Son Excavator, Inc." with his late father; he was often sought after to help sculpt beauty from disastrous landscaping situations, and was referred to as the "Pond Doctor." He was a committed family member and his community was important to him- in childhood he served as an altar boy at Ashland's Episcopal Church, and later in life he worked as a board member of Greene County Soil & Water and was a member on the Town of Ashland Planning Board, Town of Ashland Cemetery Association and Town of Ashland Historical Society. Larry's straight shot in black powder shoots and other competitions with his beloved son Doug, yielded many medals of special recognition and gave him much joy. Larry had many other talents, including restoring horse drawn carriages and old cane chairs (lost arts, taught to him by his parents). Other passions his family dearly recall like fishing, roller skating, instructing his grandchildren how to shoot, building snow piles for the kids to play in, and long walks with his family around the property. He was always up for a day of hard work, teaching others his trades and, of course, fun. He will be remembered for his kindness, stubbornness, his ambition, and his love for nature.
Larry retired in 2015 to a quiet life of caring for his wife and land, visits with friends on his deck overlooking the homestead pond he created with his late father Cliff, and watching his children, grandchildren and great-grandchildren grow. He leaves his Legacy to his wife and family one we uphold with love and kindness.
As per the Family's request, there will be a private family Celebration of Life.
The Decker Funeral Home in Windham, NY serves the mountain top area with Care, Concern and Respect.

The funeral home is not only a business; it's a family, the Gulino family.