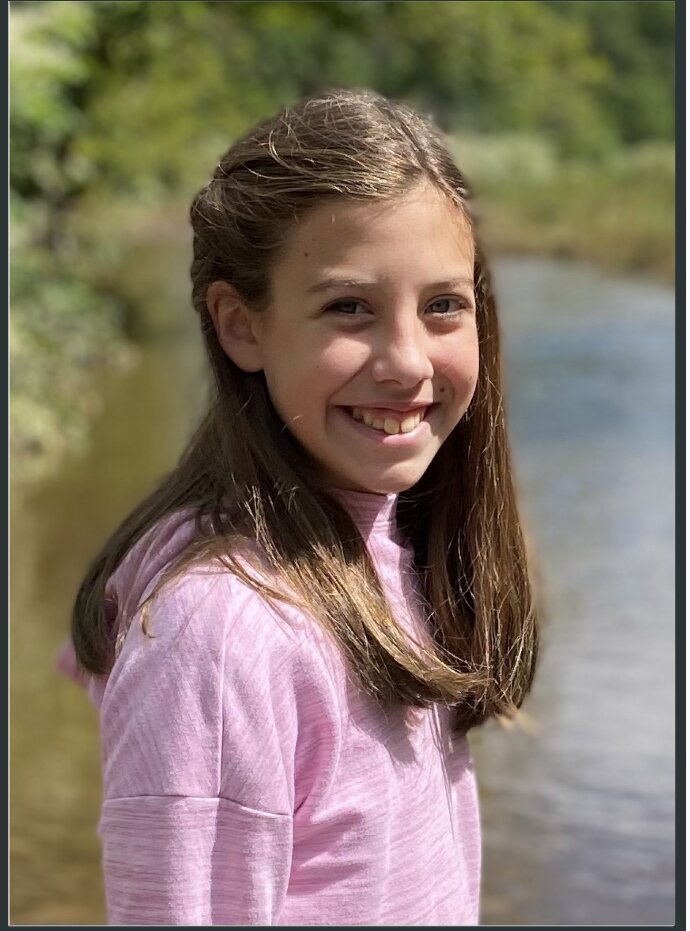 Share Your Memory of
Elisia Jane
Obituary of Elisia Jane Blass
"I want to know Christ–yes, to know the power of His resurrection."
"I want to know You, God. I press on toward the goal to win the prize for which you have called me heavenward in Jesus. My citizenship is in heaven. And I eagerly wait for a Savior from there, Jesus. Jesus Christ who will transform my body so that it will be like His own glorious one by the power that enables Him to bring everything under control."
–Elisia Blass; Journal entry for 9/10/21, age 12; taken from Philippians 3:10, 14, 20-21
Elisia Jane, age 13, died suddenly on April 18, 2022 at her home in Maplecrest, NY following a tragic accident. Elisia was the beloved, delightful daughter of Laura and Michael Blass and sister to Anna, Samuel, and Joshua. She was full of energy and love of life, and was often surrounded by friends, family and her beloved pets, Sion, Niko, and the new puppy Ziva. Elisia was home schooled, in 7th grade, a member of the C-4 Homeschool Co-op, and active in the youth group that meets at Mitchell Hollow Mission Church. She was full of compassion, loved to laugh, and was quick to have fun. She was also very self-disciplined and meticulous in her schoolwork and her personal Bible study. She had a strong faith and love for God. She loved children and animals of all kinds, especially horses. She danced ballet with the Orpheum Dance Program and had just begun to dance en pointe. She loved snowboarding, snow camp and family camp, mocha frappes, bike riding, kayaking and paddle boarding, baby sitting, swimming in the creek, jogging, movie nights, concerts, hiking in the woods and mountains, dancing, imagining and playing with her younger brother Joshua, drawing, sculpting, reading, and climbing trees. She was in the middle of writing her first novel. She adored her older sister Anna, and loved teasing and laughing and dreaming with her. She loved to work together on projects with her older brother Samuel and her dad. She and her mom spent a lot of time reading together, cuddled under an afghan and sipping something sweet and warm. Elisia often biked to the park where she would meet her best friend Kensi Dempsey so they could read their Bibles and do ther Quiet Time devotions together, and possibly plan their next twinning outfit or adventure. And every day she wrote, "Today I am thankful for…" on a little note, recorded her blessings for that day, and collected the notes in a jar on her dresser.
Elisia is survived by her parents Laura and Michael, her sister Anna, and brothers Samuel and Joshua. Her grandparents are Marie Bloss, David Blass (deceased), and Dan and Nancy Miles. She is also survived by a number of aunts, uncles, cousins, and many friends. She is dearly missed by all who love her.
A Celebration of Life Service will be held on April 27, 2022 at 2 pm at Mitchell Hollow Mission Church in Windham, with interment at Pleasant Valley Cemetery, Ashland, NY. There will be a reception following at approximately 4 pm at Hope Restoration Church in Windham, NY.
In lieu of flowers, donations may be given in Elisia's honor to Mitchell Hollow Mission Church towards a scholarship for local teens to go to Word of Life's Snow Camp and Summer Camps.
"I will keep those with steadfast minds in perfect peace, because they trust Me. So trust in Me forever. For I AM the Rock Eternal. Lean on Me, your Rock, not on your own understanding, and I will GIVE you Peace. Because I love you."
–Elisia's journal entry recording the words of God whispered to her heart on 2/25/22, taken from Isaiah 26:3-4.
Funeral Service
2:00 pm
Wednesday, April 27, 2022
Mitchell Hollow Road Mission Church
893 Mill Street
Windham, New York, United States
Interment
2:30 pm
Wednesday, April 27, 2022
Pleasant Valley Cememtery
Rt 23
Ashland, New York, United States
The Decker Funeral Home in Windham, NY serves the mountain top area with Care, Concern and Respect.

The funeral home is not only a business; it's a family, the Gulino family.