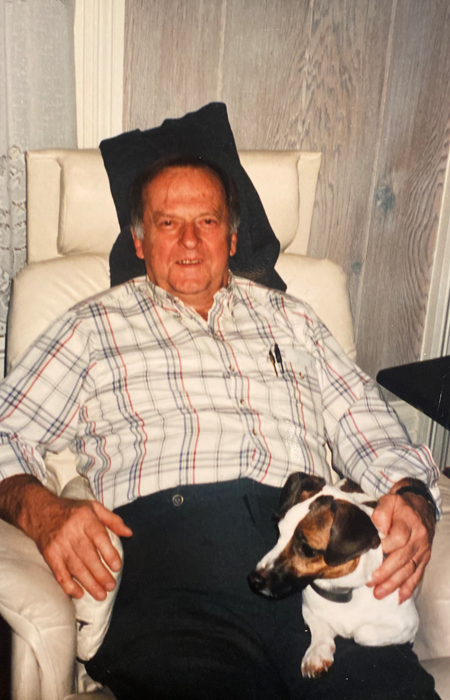 Share Your Memory of
Bernard
Obituary of Bernard J Brabazon
Bernard J. Brabazon went to be with the Lord and January 11, 2022. He is
survived by his loving wife, Mary Frances Brabazon; his children
Patricia A. Lenseth (Steven), Peter F. Brabazon (Frances), Anne Marie Brabazon,
James A. Brabazon, (Lori); eleven grandchildren and four great-grandchildren; his
sisters Elizabeth Feulner (Alan), and Mary DeSousa; his brother Peter Brabazon;
as well as many nieces and nephews. He was predeceased by his parents Peter
and Anna Brabazon, his sisters Kathryn Brabazon and Eileen Hanford (Maurice) and Anne Marie Brabazon.
He was born on November 1, 1930 in Bronx New York. His early years were
spent growing up in Whitestone, where he enjoyed living by the bay,
boating and being a lifeguard. He graduated from high school, then went on to
Queens College where he completed two years of study. He was active duty in
the Navy for 20 years, training newly enlisted sailors. He continued for
another 10 years in the Naval reserves. There he learned carpentry and he
used his skills to renovate his homes and build lovely cabinets.
After spending some summers and weekend winters skiing in Windham he and
Frances decided to move the family there. He purchased the post office
building in Hensonville and started an insurance and real estate business.
Soon he began the Elm Ridge Townhouse Development, the Elm Ridge Bath and
Tennis Club and the Windham Ridge Club.
He enjoyed traveling with his wife and friends. His favorite place to visit
was Ireland. Another favorite trip was a cruise to the Panama Canal. Many
happy years were spent in Long Boat Key and Sarasota, Florida. Bernie was an
active member of Saint Theresa's Church and the Knights of Columbus serving
as Grand Knight for many years. One of his memorable accomplishments with
the Knights was planning a group tour to Ireland in 2007 where he had an amazing time.
In lieu of flowers donations can be made to Saint Theresa's Church or the Knights of
Columbus. The family wishes to send our most sincere thanks to the Town of
Windham Ambulance for their amazing kindness and help. We also are very
grateful to the staff at St. Peter's Hospital and Hospice for their
wonderful care.
Calling Hours Zoom Mtg. 2-4pm

Meeting ID. 816 1575 2944
Passcode 651952

Calling Hours Zoom Mtg 7-9pm
Meeting ID: 860 1779 0014
Passcode: 606457
Funeral Mass Zoom Mtg Saturday 12 noon
Meeting ID: 849 3810 7469
Passcode: 437961
Calling Hours
2:00 pm - 4:00 pm
Friday, January 21, 2022
Decker Funeral Home
5312 Route 23 , P.O. Box 134
Windham, New York, United States
(518) 734-3535
Calling Hours
7:00 pm - 9:00 pm
Friday, January 21, 2022
Decker Funeral Home
5312 Route 23 , P.O. Box 134
Windham, New York, United States
(518) 734-3535
Mass
12:00 pm
Saturday, January 22, 2022
St Theresa Of The Child Jesus RC Church
St Route 23
Windham, New York, United States
The Decker Funeral Home in Windham, NY serves the mountain top area with Care, Concern and Respect.

The funeral home is not only a business; it's a family, the Gulino family.