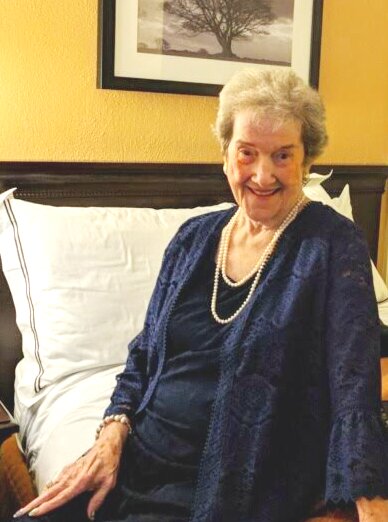 Share Your Memory of
Marian
Obituary of Marian L. Johnson
Marian Johnson (1928 – 2021)
Always with a twinkle in her eye and a smile brightening her face, Marian Johnson lit up the room when she walked in the door. On Dec. 15, 2021 she passed away peacefully at home, surrounded by loved ones.
Born in Whitmire, SC in 1928, she began coming to Windham, NY in 1976 with her beloved husband (and beekeeping legend) Dick Johnson. Dick and Marian moved to Windham full-time in 1997. They are survived by daughters Elizabeth Tailer and her husband Thomas, Kathi Schwaiger and her husband Arthur, Susan Hughes and her husband Keith, Robin Bryce and her husband Toni. Surviving her in South Carolina are Mr. Charles O'Shields (now patriarch), Mrs. Louise MlCoch and Mrs. Janet Ballentine, to name but a few and many grandchildren and great-grandchildren.
Marian received her RN degree in Georgia, and went on to serve as a Lieutenant in the Army. She was stationed in Bremerhaven, Germany when she met her future husband, and always joked that she was proud to outrank him. They wed in 1954, and began a family in Cranford, NJ. Marian and Dick were both very active supporters of the local Rotary and VFW clubs.
Born on July 4th, Marian was indeed a firecracker. She had an enchanting zest for life, and was always optimistic and resilient. "You can't keep a good woman down!" was one of her favorite quotes. Her expertise at bridge, love of fortune cookies and good luck with scratch-off lottery tickets were well-known, but her nickname of "Mrs. Lucky" came from her extreme skill at the blackjack table. One of her favorite escapades would be a trip to Rivers Casino, which is where she celebrated her 93rd birthday.
Marian effortlessly found joy in whatever she did, and loved to share it with others. She would always flirt with her doctors, as she wanted to be memorable to them. Waitresses greeted her by name as they do other notable local gentry, and were always glad to see her again. Possessed of a keen sense of humor and an accurate read of most people, she was delightful company, both witty and unpredictable. Occasionally when telling an off-color joke, she would pretend to hide behind her well-manicured hand as she whispered the punchline to you with a conspiratorial wink.
Her sage advice, unquenchable sense of humor and loyal friendship will be sorely missed by her family and dear friends, including scions of the Windham community Lenore & Vito, her breakfast buddy Cyd who would "spring her" from the house, and Jim Varelas who would visit her at home, chat on matters of faith and keep her up on the latest news in town. She was lucky to have a group of loving caregivers who helped take care of her. Marian Johnson will be missed most of all by her family, who loved her dearly and called her Mammies. She in turn loved all of them with all of her heart, "to the moon and back."
We will gather to celebrate her life when it is safe to do so.
The Decker Funeral Home in Windham, NY serves the mountain top area with Care, Concern and Respect.

The funeral home is not only a business; it's a family, the Gulino family.