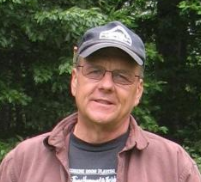 Share Your Memory of
Charles
Obituary of Charles D. Nicholls
On Thursday, October 29, 2020, Charles D. "Chik" Nicholls, Jr. of East Jewett, New York, passed away peacefully at the age of 74 with his loving wife, Linda, at his side. After nearly three years of illness, Chik lost his brave battle with autoimmune encephalitis.
Born in Catskill, NY on September 23, 1946, to Don Nicholls and Emily Petersen Nicholls, Chik was a life-long resident of the Mountain Top (Hunter and East Jewett, NY) that he loved so well, surrounded by the natural beauty he appreciated and respected. Nearly 60 years of his life was spent in the company of his best friend, Linda Sciarrillo Nicholls. High School sweethearts, Chik and Linda were married in 1968, and were blessed with daughters Jody Nicholls and Rebecca Nicholls Hoagland.
A 1964 graduate of Hunter-Tannersville Central School, Chik went on to pursue a Bachelor of Science degree in Chemistry at the University of Rochester. Post college, Chik successfully spent the next 30 years working for Sterling Winthrop, Inc., culminating his pharmaceutical career as a Quality Control Laboratory Supervisor. In true Chik fashion, sitting still wasn't in his playbook, and after his retirement from Sterling he explored and enjoyed various occupations. He spent time working in bridge and highway construction with I&OA Slutzky, Inc., industrial construction with Pizzagalli Construction Company, and was a licensed electrician.
Chik was on the front line of service to his community and friends as an active, knowledgeable, and enthusiastic member of two Mountain Top fire companies – Hunter Fire Co. No. 1 and East Jewett Fire Department and Rescue Squad. He was also a member of the Twin Cloves Rope Rescue Team. Chik acted in the volunteer fire and rescue service for nearly 50 years, and spent time as Chief, Line and Executive Officers, President of the Greene County Volunteer Firemen's Association, and Emergency Medical Technician. He was a valued member of the volunteer fire service who answered the call the moment the tones went off, worked hard, remained calm, and was a steady and experienced presence to his fellow firefighters and EMS personnel.
Chik's life was a life well lived - filled with love, compassion, altruism, service, kindness, and lots of laughter (a very distinct, contagious laugh! Can you hear it?). He valued his friendships and treasured his family. Always a "doer" and always making time to help, Chik could be found assisting his friends, family, and community in a wide variety of ways – fixing, moving, planning, setting up, breaking down, building, designing, delivering – and was often the first to arrive and the last to leave.
Chik was simply the best husband, father, and grandfather for whom anyone could ask. He shared his love and knowledge of nature, camping, fishing, photography, gardening, animals, reading, writing, construction, woodworking, and "MacGyvering" with his family, and his lessons live on in them. Partner, friend, teacher, advocate, ally, provider, playmate, protector…. he was a giant among men.
Chik is survived by his wife, Linda, daughters Jody Nicholls (John Murphy) and Rebecca Nicholls Hoagland, and granddaughters Hannah Hoagland, Ellie Hoagland, Eden Murphy, and Tess Murphy.
Funeral arrangements are being managed by Decker Funeral Home (Windham, NY). The immediate family will hold a private ceremony next week, and a graveside service for family and friends will be held in the Spring. A Celebration of Life will be held next summer/fall when we hopefully can gather together safely. If it is your wish to honor his memory, donations can be made to the Hunter Fire Company, East Jewett Fire Department and Rescue Squad, Tannersville Rescue Squad, or Kaaterskill and East Jewett United Methodist Churches.
The Decker Funeral Home in Windham, NY serves the mountain top area with Care, Concern and Respect.

The funeral home is not only a business; it's a family, the Gulino family.