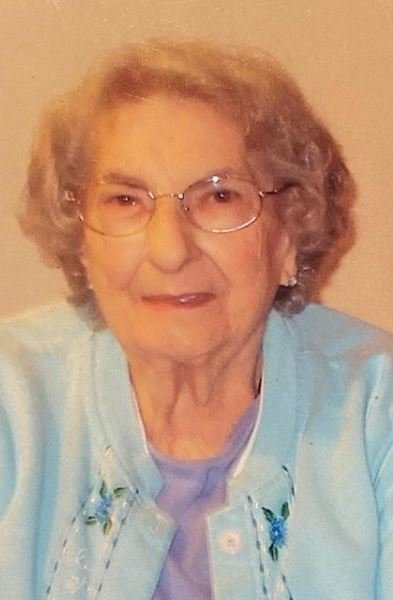 Share Your Memory of
Mildred
Obituary of Mildred May Harkness
Mildred May Harkness passed away peacefully on Friday, August 7, 2020 at the Pines at Catskill Nursing Home. She was 90 years of age. She was predeceased by her husband Leo Harkness, who passed away on April 21, 1988.
Milly is survived by her son Wayne Marquit, his wife Maria, grandsons Joshua and Matthew, granddaughter Corrina Phillips, son Franklin (Skip)A J Marquit, and six great grandchildren.
Milly served as the Prattsville Town clerk for almost 37 years. Visitors appreciated her friendly nature, as well as her willingness to accommodate their needs. She was very diligent in helping the town operate more efficiently. Milly was also a member of the Ladies Auxiliary.
Throughout her life, Mildred was truly a caregiver. Whether it was babysitting, helping those that were sick, or caring for the elderly, she was there when people were in need.
Milly always loved family. She was the remaining survivor of thirteen children. She spent quality time with her brothers and sisters over the years. She helped her family stay close by organizing birthday parties and other events. She especially loved children. Milly once stated that she had dreamed of becoming a pediatric nurse. She always welcomed the opportunity to babysit young children.
Milly was a quick learner, having been an avid reader since she was young. She had a sharp mind, always taking the opportunity to learn something new. She developed the talent of crocheting, having made baby blankets and clothing, as well as porcelain doll clothes over the years. She loved working on jigsaw and crossword puzzles. Milly always enjoyed birdwatching and identifying various birds.
In her later years, she went on numerous senior bus trips, and loved traveling.
Milly was a wonderful wife, a mother who lead by example, a grandparent who freely gave her love, and a person who helped everyone who knew her.
May the Lord bless her for her life of service.
Funeral services will be held on Monday, August 10, 2020 at Deckers Funeral Home, Windham, NY at 11:00 AM, Internment to immediately follow at the Fairlawn Cemetery, Prattsville, NY.
In lieu of flowers, please make a donation to the Zadock Pratt Museum, PO Box 333 Prattsville, NY.
Interment
12:00 pm
Monday, August 10, 2020
Fairlawn Cemetery
Route 23
Prattsville, New York, United States
Funeral Service
11:00 pm
Monday, August 10, 2020
Decker Funeral Home
5312 Route 23 , P.O. Box 134
Windham, New York, United States
(518) 734-3535
The Decker Funeral Home in Windham, NY serves the mountain top area with Care, Concern and Respect.

The funeral home is not only a business; it's a family, the Gulino family.