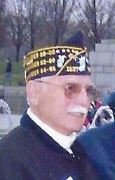 Share Your Memory of
Paul
Obituary of Paul J. Cozzoli
Paul J. Cozzoli, Serial Entrepreneur and Beloved Veteran, Dies at 94
Prattsville, New York, May 30
Paul John Cozzoli, an infantry veteran turned serial entrepreneur—who was beloved for his support and advocation of Veterans' Services and his neighboring community—has died near his home in Prattsville, New York. He was 94.
Those near to him knew Mr. Cozzoli as one who was committed to providing sanctuary and love for his family and friends, a consummate and nurturing aid and ally. He is survived by his brother, Robert, children—Marie, Paula, and John—in-laws, cousins and great cousins throughout the United States and Italy, nieces, nephews, grandchildren, and great grandchildren. As is recounted unanimously from those closest to him, nothing made him more proud, nor gave him greater sense of purpose, than his heritage and his family.
Born November 9, 1925, in Fresno, California, to Mary and John Cozzoli, he was the eldest of three boys in an Italian-American household.
He began working as early as age 4 in the orchards of his hometown, picking fruit and nuts to help his family earn a living, especially during times of hardship like The Great Depression. They eventually found their way to the East Coast and New York City where he would continue to work as a delivery boy, stocking clerk and grocer—the beginning of a series of honest livings that he dutifully pursued for the betterment of his family.
Through life, and though he worked in various industries and held many titles, no profession would have as much impact or resonate with as much self-fulfillment as his military service and, in later years, his volunteer work and initiatives with Veterans of the United States of America.
It was a calling to a vocation, to a country he valued so profoundly, and to an American brotherhood and sisterhood he felt so bonded with.
Too young to fight in the early years of World War II but with spirit beyond his youth, he enlisted as an infantryman with his father's consent.
Severe illness would prevent him from seeing battle overseas but he never forgot his friends and compatriots who served. Naturally in the years following, he became involved with Veterans and as Commander of his American Legion post, he dedicated his life to their cause. A national holiday would never pass without his parading or fund raising on their behalf. Hereligiously planted flags on the tombstones of those fallen in all our wars and for those who served; and he volunteered and also encouraged his grandchildren to go to their local VA hospitalsand retirement homes to spend time with Veterans and be part of such a rich and needing community in any way possible. He would visit Veterans weekly.
On Saturday, May 30, 2020, aged 94 but with no sign of deteriorating mental or physical health—and to the deeply felt grief of his family and friends—Paul John Cozzoli died in a car crash, near his home in Prattsville, New York.
Paul was the last of the World War 2 Veterans from his American Legion post and one of the triumphal bellwether souls of our country's Greatest Generation. To his family, his brother,his children and grandchildren, and to his friends, he was akin to the heroes of American fiction, a dreamer and fierce championof independence, who believed that our country is one of God's greatest, even at its seemingly most dark and reveling times.
This last Memorial day and in a manner as selfless as his way of life, Paul's only regret was that there were no red poppies to distribute in remembrance of the day, nor any assembly to honor the great heroes who protect our freedom at all costs.
The Decker Funeral Home in Windham, NY serves the mountain top area with Care, Concern and Respect.

The funeral home is not only a business; it's a family, the Gulino family.