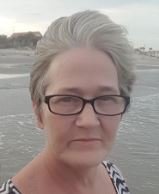 Share Your Memory of
Jamie
Obituary of Jamie Ferrante
Jamie Ferrante,57, of Poughkeepsie, New York, passed away Peacefully at home on April 2, 2020. Service will be held at a later date as requested by the family..
Jamie was born in Fort Dix, New Jersey to Clifton and Shirley A. Fuller on May 17, 1962. On March 3,1980 She married Thomas J. Ferrante. After her schooling she went on to work in several fields but enjoyed the food industry most. She enjoyed being outdoors, helping others and most enjoyed spending time with her family. She was a loving and kind soul who was always willing to give a helping hand.
Jamie is survived by her Mother, Shirley A. Fuller of Rhinebeck, NY. Siblings Jo-Ann (Glenn) VanNorstrand of Red Hook NY, Jodie Fuller of Poughkeepsie NY. Jeffery (Dawn) Fuller of Pleasant Valley NY, and Jerald C. Fuller Of Durham, North Carolina. Her children Jessica (Daniel) Herring of Catskill NY. Brian (Stacey Thomas) Nichols of Hamlin NY, And Christopher (Tara) Ferrante of Shutesbury Mass. Her Grandchildren Emily Rose Ferrante, Lea Marie Herring, Ayden Bell, Anna Nichols, And Violet Ferrante. As well as her longtime companion Robert Murphy of Poughkeepsie NY. Several Aunts, Uncles, Nieces, and Cousins. She is preceded in death by her Father Clifton G. Fuller, Brother John P. Fuller, and Husband Thomas J. Ferrante.
Memorial donations may be made in the form of butterfly cutouts Mailed to: Ferrante Family 437 Green Lake Rd. Catskill NY 12414. You can write any fond memories of Jamie on the backs and then these will then be used to create a memory box in her name. Which will later be used during service and then placed with her ashes.
The Decker Funeral Home in Windham, NY serves the mountain top area with Care, Concern and Respect.

The funeral home is not only a business; it's a family, the Gulino family.