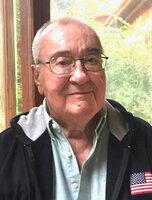 Charles Frank Visich
CHARLES F. VISICH
1936 – 2022
Charles was born in Brooklyn, NY to Charles and Mary Visich, and passed away peacefully on November 1, 2022 with his wife Judy by his side. He is survived by his brother Dennis, nephew KC (wife Valerie), many cousins and friends.
Charles graduated from Brooklyn College and earned his MBA from NYU, graduating second in a class of 425. He was Captain of his college Varsity Soccer and Track Teams, earning letters as he set fourteen different field records in Javelin. He was elected to his college all-star soccer team, and competed for the New York Athletic Club in javelin competition in world class events. After college he also played semi-pro soccer for the New York Danish-American Soccer League.
Charles started his career at Morton Thiokol, then went on to Procter & Gamble in Cincinnati, Ohio where he was Brand Manager in the Advertising Department for Ivory Bar, Mr. Clean and Dash detergent. He was a marketing manager and promotion consultant to a variety of Fortune 500 companies with the Glendenning Company in Westport, CT followed by Group President of Kettering Industries in Englewood Cliffs, NJ where he dealt with Mergers and Acquisitions and strategic planning consulting. From there he had his own consulting company for many years and then moved to Dallas, TX to become Senior Vice President of The Southland Corporation (7-Eleven), Vice Chairman of The Brain Reserve in NYC and President/COO of Klipsch Lanham & Associates in Indianapolis, IN. Charles career allowed him to travel all over the world, which he so enjoyed, and making so many new friends in the process.
Charles and Judy moved to Lexington to enjoy the quiet and solitude of the beautiful Catskill Mountains, and Charles became a member of the Lexington Fire Company of which he was most proud. He loved fishing and hunting, and horseback riding.
After his retirement Charles and Judy spent part of the year in Florida for the winter months, as he loved the beach, fishing and boating with his brother Dennis. He loved cruising , as well as shooting sporting clays, trap and skeet.
Charles became involved with the Senior Olympics while in Florida and competed in his age group in Shot Put, Javelin and Discus. He won a silver medal in the discus throw event and bronze medals in the Javelin and Shot Put events.
Memorial services will be held at Decker's Funeral Home in Windham, NY on Friday November 11 from 3-5 PM and 7-9 PM. Funeral Mass will be held on Saturday at St. Theresa of The Child Jesus at
10 AM followed by burial at the Lexington Village Cemetery. Memorial Donations, instead of flowers, can be made to the following:
Puffy Paws Kitty Haven (no kill animal Shelter)
270 Lakeview Lane, Englewood, FL 34223
Puffypawskittyhaven2@yahoo.com
OR
Lexington Fire Company OR Wounded Warrior Project