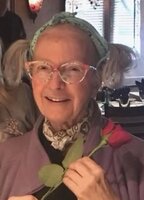 Christine Cepale
Christine Way Cepale (nee Van Dine Melanson) of Windham, NY died on Saturday, September 4, , 2021.
She was born in Woodmere, Long Island to Octavia and Pell Van Dine, an old Dutch Long Island family. She received a BS degree of the University of Delaware and a Masters degree from Columbia University. She traveled the world including Europe, Asia and the Mediterranean. Her interests included family, the stock market, real estate and cooking.
Christine felt age was just a number and each day should be enjoyed to its fullest. She was grateful that life gave her excellent physical, mental and spiritual health, many good friends and especially her dear family
She was the Home Economist for the Borden Company, and school teacher for many years at Valley Stream and Freeport School both in the Long Island school system.
She was the beloved wife of the late Robert Cepale; loving and devoted mother of Adam Pell Melanson, Scott Carroll Melanson, Curtis Helms Melanson, (MaryEllen), Bradford Way Melanson, (Virginia); adored grandmother of Gianna Rose, Alexandra Way, Tyler Joseph, Jacalyn Grace, Grace Ann, Amanda Lynne.
Calling hours will be held on Saturday, September 25, 2021 from 11Am - 12:30Pm at Decker Funeral Home, 5312 Main Street, Windham. A funeral service will follow at 1Pm at St. Theresa of the Child Jesus Roman Catholic Church, State Route 23, Windham, NY