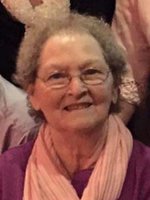 Estella A. Nolte
Estella A. (Rogers) Nolte passed away in the early morning of January 5,2021.
She was a devoted wife, mother, & grandmother to 16 grandchildren,
great grandmother to 21 & 1 great great grandchild.
She was predeceased by her parents Emily (Erickson) & John Rogers.
Her daughter Pam Perreault, grandson David Briggs & great grandson
Andrew Durkin. Her sisters Kay, Ellen, & Clara brothers George & Burt.
She was born March 27, 1934. She was one of 8 children. Estella graduated from Gilboa Conesville Central school in 1953. She went back to school and earned a degree in nursing. She spent 30+ years as a caring, compassionate and dedicated nurse. She had a love for family and would open her doors during the holidays and always for Sunday dinners at 2 PM. Everyone knew that she loved to cook and bake for her family. There was always enough for anyone who stopped by. Especially for her home made cinnamon buns and apple pie.. they were always made with love.
She is survived by her husband the love of her life Kenneth Nolte. They have spent the last 48 years of marriage taking care of each other. They were best friends and loved each other unconditionally.
She will be greatly missed.
She survived by her brothers Bill&(Jane) & Jim & (Ginny) Rogers.
Her daughter Darlene & (Randy) Briggs
granddaughter Jody& (Andy)
Son Joe & (Becky) Clark
grandson Paul
granddaughters Ashley & (Casper)
Maureen
Ashely D.
Son Kraig & (Stephany) Nolte
Grandson Greg & (Kristen)
Granddaughter Jamie & (Izzy)
Grandson Stephen & (Melissa)
Son Tim & (Heather) Clark
Grandson Kevin
Granddaughter Emily
Daughter Pam(predeceased) Greg Perreault
Granddaughter Karrie & (Will)
Grandson David Paul
Daughter Paula Tuosto
Grandson Ryan & (Loren)
Granddaughter Jesica & (Jay)
Granddaughter Sara & (Scott)
She was a life time member at the Flat Creek Baptist Church.
In lieu of flowers donations can be made to the Flat Creek Baptist Church.